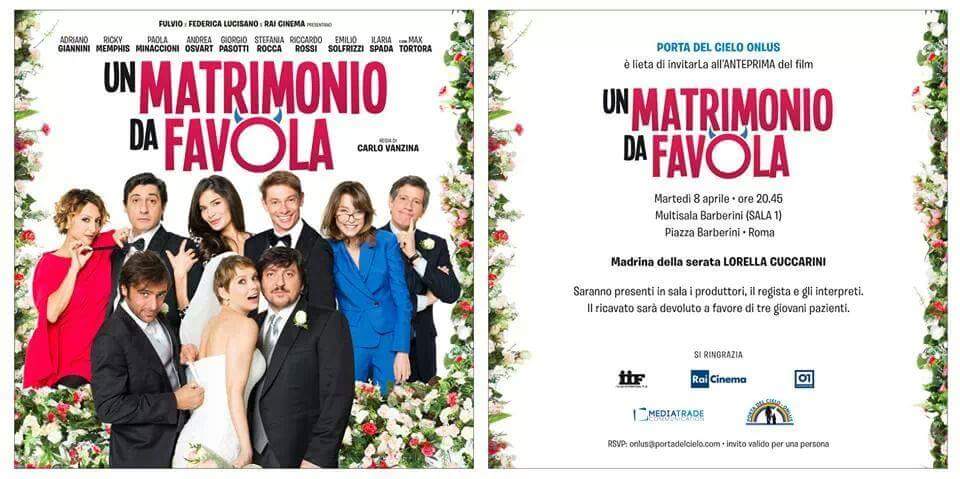 Movie premiere of the film "A FAIRY WEDDING" by Carlo Vanzina
An evening with THE ACTORS AND THE DIRECTOR of the film dedicated to three young patients of the non-profit organization – pre-sale required.
A fundraiser is underway to benefit the three little patients Emanuela (6 years old) , Francesca Pia (3 years old) and Mate (5 years old) followed by the non-profit organization Porta del Cielo, who will have to undergo urgent surgeries at the Bambino Gesù hospital facility in Rome.
To this end , with our support, the nonprofit is organizing a CINEMATOGRAPHIC PREVIEW OF CARLO VANZINA'S FILM "A FAIRY WEDDING," which will take place TUESDAY, APRIL 8, at 8:30 p.m. at the MULTISALA BARBERINI, in Piazza Barberini in Rome.
The Director and Cast will be present in the hall.
Godmother and hostess of the evening will be LORELLA CUCCARINI.
The entire proceeds will be used to pay the costs of various interventions scheduled for April/May. The minimum TICKET bid is EURO 30.00.
Membership can be made by bank transfer, the details of which can be found at
www.portadelcielo.com
under "how to help us." An email for ticket credit should, therefore, be addressed to onlus@portadelcielo.com, enclosing a copy of the transfer made.