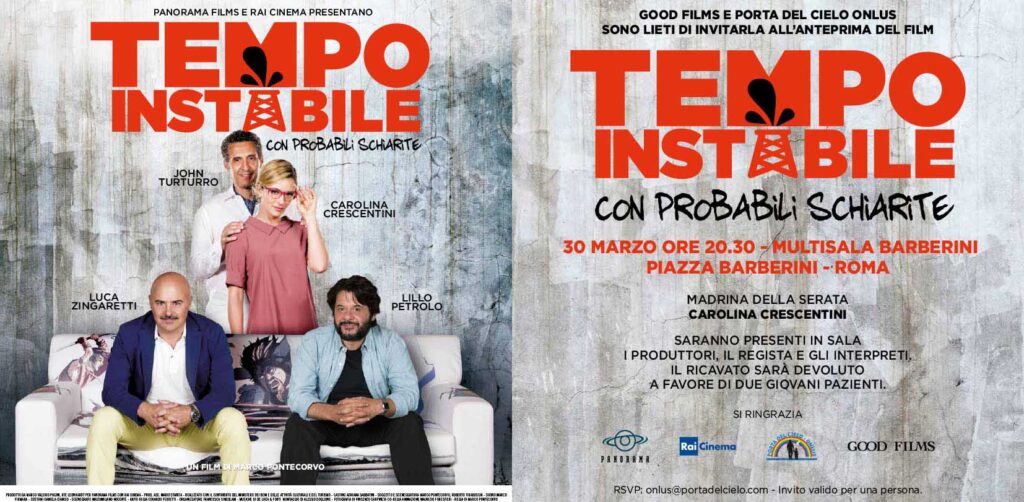 Film premiere of the movie "UNSTABLE WEATHER WITH PROBABLE SHIELDS."
A fundraiser is under way to benefit 2 patients-Emanuela (8 years old) and Mate (6 years old)-watched by our non-profit organization, who will have to undergo, or have recently undergone, surgeries at the Bambino Gesù hospital facility in Rome.
To this end , thanks to Panorama Films, Rai Cinema and Good Films with our support, the non-profit organization is organizing a MOVIE PREVIEW OF THE FILM "UNSETTLED WEATHER WITH PROBABLE CLEARING" by Marco Pontecorvo (SEE ATTACHED LOCANDLINE) with. John Turturro, Luca Zingaretti, Carolina Crescentini and Lillo Petrolo (by Lillo and Greg), which will take place. MONDAY, MARCH 30, 2015, at 8:30 p.m. at the MULTISALA BARBERINI , on Piazza Barberini in Rome.
The director and cast of the film will be present in the theater.
Godmother and hostess of the evening will be Carolina Crescentini.
The entire proceeds will be used to pay the costs of the various planned interventions.